2020 Webstar Magazine Media Awards
The Webstar Magazine Media Awards honour our very best magazine brands, initiatives and individuals. They inspire innovation; empower commercial success and create a compelling showcase of magazine creativity across multiple platforms. Most importantly, they are our once-a-year chance to celebrate that particular magic of magazine brands: the ability to engage audiences with the craft of storytelling. All magazine publishers are invited to enter the 2020 Webstar Magazine Media Awards. We wish every entrant the best of luck and look forward to seeing you on awards night.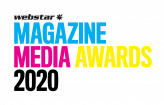 All awards information, including awards categories, criteria, frequently asked questions, important dates and more can be found here.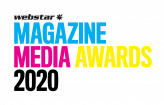 A hearty congratulations to all our finalists: they're a line up of the best and brightest in our industry.