Magazines back in business at Level 3
28 Apr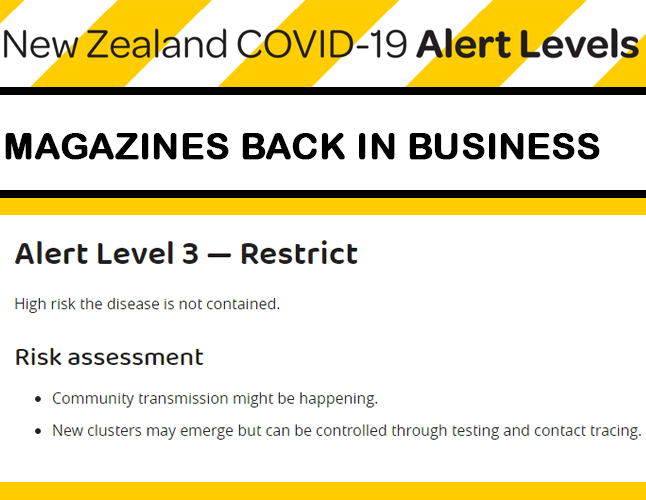 Some good news at last. At Level 3, all aspects of magazine production are good to go.
"Production, contactless delivery and retail distribution of magazines can take place," the Government says in its guidelines for business under Level 3.
This is the message we've been wanting (and waiting too long) to hear. During the lockdown, the MPA has lobbied the Government hard on behalf of magazines. While we couldn't reverse the Level 4 ban on magazines, we did make sure magazine interests were front and centre in their planning for Level 3. As a result, there have been some small, but meaningful concessions, and Level 3 looks very workable for our members – as long as we are scrupulous about the health and safety guidelines.

Here's how the MPA understands magazine publishers can work under Level 3,
Your magazine can be printed, but your printer will need to adhere to Covid-19 restrictions. These include social distancing, handwashing, contact tracing and so on, (WorkSafe has more details on this).. Printers the MPA have talked to, including Webstar, Ovato and ICG, are confident this is not a problem.
Ovato will be able to distribute your magazines to supermarkets, dairies and service stations. Their first distribution will be Thursday 30 April, and then regular Sunday, Monday, Thursdays thereafter. Like the printers they will be working within Covid 19 restrictions - delivery will need to be contactless, for example – but Ovato have said they are set up to do this.
You will be able to post your subs copies out. NZ Post has been operating for essential products under Covid 19 restrictions and will now be allowed to deliver magazines as well.
You and your staff should still work from home. Guidelines say that "a magazine publisher can open its office for staff who cannot work from home" but they also stress that this should only be when working from home really is not possible. If it's just that you'd be better off in the office because you had better internet, or access to a computer, at the office, that doesn't cut it. However if you are in the office with staff, you will need to stick to all the Covid health and safety rules.
Reporting staff and photographers can travel. However, they should only travel, if they can't do the job remotely, and they should stick to the Level 3 guidelines of staying "within their region, or a neighbouring region". Again, it's vital that reporting staff stick to health measures like social distancing and handwashing.
Obviously, the whole situation is fluid, and we may hear more over coming days. If we do, we'll keep you posted.