Q&A: NZ Rugby World's new owner
6 Apr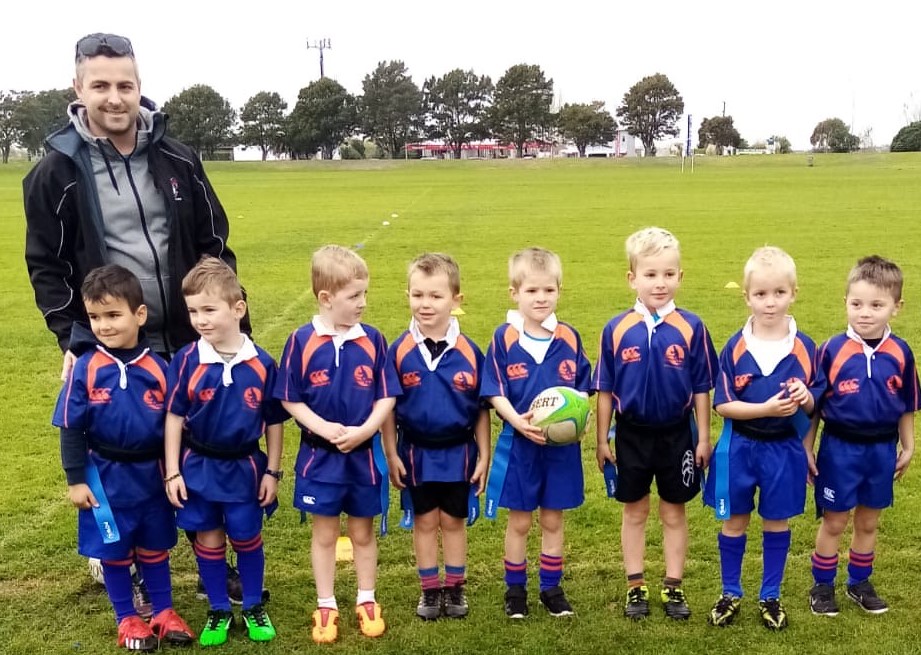 Rugby-loving school principal Mike Hansen has bought NZ Rugby World magazine, and taken the plunge into publishing. The MPA caught up with its newest member last week (Mike is pictured with the rugby team he coached last year).
Q: Why make the move from teaching to publishing?
I have been in education for 15 years and have worked in a variety of school settings in NZ and in International schools in Hong Kong. I returned to NZ from Hong Kong in 2015 with my young family to begin my career as a Deputy Principal and then Prep Principal at Scots College in Wellington. After five years at Scots College, I decided to head back to my roots and moved with my wife and two young boys back to my home town of Tauranga to be closer to family and the sun. I became Deputy Principal at Bethlehem Primary School and decided to leave the school late in 2020 when the opportunity to be a publisher and own NZ Rugby World came up.
I have been a rugby fan for as long as I can remember and was a subscriber to NZ Rugby World magazine for many years. After 15 years in education I felt it was time to do something different and take the plunge into a new career and industry.
COVID-19 and lockdown had different effects on all of us: on me it was realizing I wanted a more flexible work day so that I could spend more time with my two boys and watch them grow up. It also gave me an insight into what it would be like to work remotely and how powerful video conferencing was in connecting with various people and businesses.
So why become a publisher? I love being creative and have always been an innovator in education. The process of putting an idea on paper and then seeing it come to the final product excites me and gives me a sense of achievement. Publishing is a way to have this feeling on an ongoing basis in an area that I love: rugby.
It's not an obvious career path: what skills will you bring to publishing?
Educators are multi-talented and able to adapt to constant change in curriculum, policies, society etc. Being able to juggle various projects at the same time has prepared me for multitasking subscriptions, advertising, admin and planning content. Relationships are really important in education with students, parents and staff all interacting on a daily basis. I believe in strong relationships and will continue to make strong long-lasting relationships between NZ Rugby World and businesses, sporting entities and other publishers etc. Technology has also been an area that excites me and is an area that NZ Rugby World will be looking at to refresh our social media and website offerings.
What are your plans for the title?
We will continue to report on quality stories that our readers love. We will be looking at increasing the diversity of our writers and content to cater to a wider range of readers in line with our changing society. Our social media and website will also be going through change with more content being uploaded and higher engagement to build an online community. These changes will be evident from our April/May issue.
Are you a rugby player yourself?
With my last name being Hansen, the first question I get asked is " Are you related to All Blacks coach Steve Hansen?" If I was, I think I would have had a better chance of making the All Blacks. When I was very young I wanted to play rugby like my two older brothers. I pestered my parents to allow me to play and they managed to register me to play as a 4 year old with the 5- and 6-year-old team. I had to repeat the next year so that I was in the right grade. I loved the game and probably played all positions in the team growing up from junior rugby through to 1st XV. After school I played in the U85kg grade which was new in the Waikato at the time and had a great time playing some fast-running rugby. When I lived in Hong Kong I played for the Hong Kong Police team (which was made up of NZ and Australian teachers) and then later Kowloon. After a few injuries my body told me it was time to hang up the boots, so I focused on coaching rugby at school and most recently my sons rIppa rugby team.
How do you feel about the state of rugby in NZ right now?
I feel that rugby in NZ right now is really exciting. Over the last 5 or so years Super Rugby has become quite predictable and one sided with the same teams getting beaten each week. COVID-19, forced the rugby unions to adapt and come up with different models which in turn has created a hugely competitive NZ competition and returning the NZ domestic competition to the rightful owner of 'the hardest rugby comp in the world'. The players might not think it has improved because week in and out it is a local derby which are at a higher level than playing an easy beat team from overseas. I think what we will see is a surge of new talent coming through because of the level that they are being exposed to each week and also playing alongside All Blacks in their camp. It will be interesting to see what the international schedule looks like for 2021 and what restrictions will be put in place for crowds, players etc.
Who reads NZ Rugby World?
There are a range of readers,.I was surprised when I dug into the demographics that it was not the typical 30 to 50-year-old males that I expected. We have a large following of women that read the magazine along with a spread of age from 18 to 65+. Obviously the main reader is someone that loves rugby and reading quality articles about their favourite local or national players.
You're based in Tauranga… will you be working from home? Who else is on your team?
Yes I will be working from home in beautiful Papamoa. However, I am sure that I will be travelling a bit to meet up with clients, interview players and watch the odd game around the country. My wife also has a business that she runs out of our home so that is going to be a juggling act but also means we get to see each other more. We have hired a new editor in Jim Kayes who is based in Whangaparaoa. Jim has lived a diverse life that's seen him follow the All Blacks around the world for 17 years. In the past Jim has worked as a sports presenter for The Paul Henry Show and TV3, he's a regular writer for Newsroom and is a producer on The Breakdown on Sky Sport. We also have a great team of designers at SPINC media.
Publishing can be stressful : What do you do to unwind?
I am into my golf but don't play enough. I am hoping to get out on the course a bit more in the coming months and work on lowering my handicap. My family also have a spot we go to called Thornton Beach which is about 45 mins away from Papamoa. The kids can swim in the estuary or at the beach and I get a chance to throw out the line with some surfcasting. Papamoa is also a great place to live with the beach, cycle tracks and some decent pubs to catch up with mates.
What's the biggest thing the MPA could do to help your magazine thrive?
As I am new to the industry, support and mentoring are areas that I would like some help in. MPA have a range of industry experts that have vast experience that I would like to touch base with and get some ideas. Networking is something that I have always benefited from in education and I am excited about networking with other publishers in NZ. Being kept up to date about new initiatives, regulations and policies will also be helpful.