What you might be missing...
6 Apr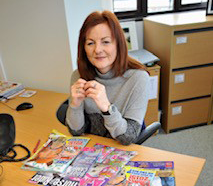 NZ magazines could be missing an "enormous opportunity" in e-commerce, according to an UK industry expert.
Andrea Marsden moved to NZ three years ago, after working for 30 years in mainly sales and management roles on UK equestrian, home, food, marine and women's magazines. Her latest role was an a non-executive director of DJ Murphy Publishers.
In a recorded interview with the MPA, Marsden said e-commerce has been the biggest revenue driver for a large number of UK titles.
"It's a massive explosion"
Last year some UK publishers were reporting a 300 per cent uplift in e-commerce – and it was growing strongly even before Covid hit, she said.
"I don't see a lot going on here [in NZ] with publishers. It's an enormous opportunity".
She cited the example of DJ Murphy's equestrian magazines Horse and Rider and Pony, who linked with a young equestrian vlogger with half a million followers to launch a range of merchandise. "It became a really big part of our … business".
And she said Hearst magazines sold a million products across their 30 titles, which include Good Housekeeping, Men's Health, and Elle, in March alone last year, and had an uplift of 322 per cent year on year in Quarter 2
"E-commerce is applicable to all areas [of magazine content]".
(Click here for a Folio magazine report on the e-commerce boom. )
Marsden was upbeat about the state of the magazine industry in NZ generally, which she described as "rosier" than in the UK, where they are still coping with furloughed staff and distribution restrictions, as well as shrinking circulation and ad sales.
Other areas Marsden touched on in a wide-ranging interview with the MPA included:
Paid-for content (native advertising or advertorials): "Publishers need to embrace it, not see it as a necessary evil."
What it takes to be a good magazine ad salesperson: Communication, good listening skills, huge positivity and creativity.
Webinars, podcasts, courses, online mentoring as new revenue streams for magazine brands
The need to invest in good quality content.
Andrea hopes to find consultancy work with a NZ publisher. You can contact her at [email protected]